Joined

Nov 19, 2022
Messages

4
Very interesting developments on these two.
Everyone's wondering why both of them suddenly went quiet.
Well turns out that local law enforcement (PBSO) are finally trying to push back on these 2 frauditors and actually arrested them!
Long overdue.
All of this is from publicly available PBC court records.
So Amanda's first court appearance was today. Of course the plea is not guilty. She'll need to come back to court in a few weeks.
She's trying to file a motion to dismiss her case entirely. Will be interesting to see what happens with that.
As for the younger auditor in training "Palm Beach Free Press", a.k.a. Evan (last name withheld, easy to find), his first court appearance is on the 23rd.
Supposedly he runs a PC repair business called PC Revive
PC Revive reviews
PC Revive
https://twitter.com/revive_pc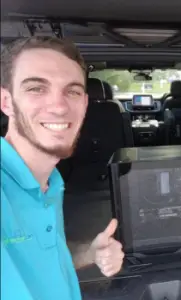 Makes you wonder how many devices he's installed malware/ransomware on.
As it was mentioned to CC local police in another
Post
it would also be helpful to CC the town clerks and town/city commissioners/managers, so that when these frauditor clowns show up at council meetings, everyone is aware of them.
For these 2 frauditors, they are actively harassing the following municipalities:
Town of Manalapan, FL:
https://www.manalapan.org/directory
Town of Lantana, FL:
The Town of Lantana, Florida - Town Clerk
The Town of Lantana, Florida - Council Members
City of West Palm Beach, FL:
City Commission | West Palm Beach, FL
I would certainly hope that the town/city attorneys have at least some sort of back channels directly to YouTube legal.
Wouldn't that be nice.