DISGRACEFUL. The McTits of shame. The beard of shame. The complaints of shame. The tears of shame. The shoulder of shame. The gang of shame. EVERYTHING is shameful about this SGV gang.
The SGV gang approaches citizens to get a rise. Whistling, taking photos of plates, VINs, yelling "Shut up", calling "pussy", etc. and if that doesn't provoke the reaction they want, they ESCALATE with the middle finger, "Fuck you, you faggot", "You're a pussy", "Mutual combat", etc., etc.
THEN, they talk about being "journalists". Anybody ever see LEGITIMATE news journalists showing up where there ISN'T any story, and instigating one? They themselves the story? Geraldo ever show up at a church and start telling elderly parishioners to go fuck their mother?
Fat Jose McTits here says that the police should "treat them with respect". "RESPECT", he says!!!!!!!!!!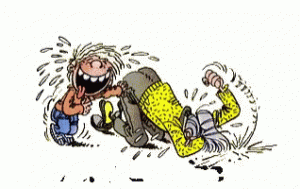 "We're just normal citizens". Yeah. "Normal". Parading around like a pack of animals, 2 on 1, 4 on 1, 6 on 1, all armed, harassing, provoking, and threatening OTHER citizens to mutual combat and then surrounding and pulling weapons in case they accept.
Why didn't McTits pull that routine on the police? Handle his business? Throw a punch? Pull the gun and go to work? Or the spray? Or a shiv? Why didn't they all, right then and there?
One word answer. CHICKENSHITS. All show and no go, the entire scum lot of them. They should have handled all their little petty chickenshit gang gripes with the cops right then and there. Don't just yell, "Pussy". Be men for God's sake with people watching. Throw down, even if it means his McTits winding up in a wringer along with his other shoulder.
I love the comments, "Way to go River. Glad you were there to have SGV's back".
What the fuck? Riverside David Chavez is the backup? This emaciated scarecrow? A dead dog backing me up would probably be more helpful than this rotten-toothed, emaciated stick figure.
And the SGV crew is supposedly River's FRIENDS?????? What kind of fucking friends don't reach for his pack of cigarettes and crumple them? Pull whatever he's constantly smoking right out of his mouth every time they see him light up. He's consumptively coughing 90% of the time and there's not a 25 year old that I've ever seen with teeth rotting out like that from nicotine poisoning.
His "FRIENDS" allow him to kill himself before his 30th birthday? What's he weigh? Maybe 115 pounds at about 5'8", 5'9"? His skin, his eyes, his voice; I thought they got rid of scurvy 200 years ago? If you're his friend, pull the cigarette out of his face and stick an orange or apple in there instead. These are friends? Or enemies? WTF? This is the kind of friends we're assigned if and when we go to Hell, bunch of fucking losers.
Downey, Ice, Furry. Only those three I have ANY respect for as human beings.
Downey and Ice because they love animals. And Furry because he's the only one of the SGV crew that actually has shown himself to have a brain. To actually have some intelligence and knowledge beyond just being a thug.
Maybe that's why Furry now maintains a distance. Maybe he's the only smart one with enough raw intelligence and instinct to sense what's coming if this SGV gang continues to view the police as "just another gang". There's only so many bulls you can run with until you wind up gored on the horns. My guess is that Furry is smart enough to know what this crew doesn't have a clue about. Good for him. Like I said. Furry is definitely the sharpest tool in the SGV shed.
Last edited: