At 7:58 in the "hero"; reaches for what appears to be a gun carried concealed under his jacket. Could be a taser but to me, it sure does look like a holstered firearm, and if it's not, Franklin WANTS it to appear that way. The man he is antagonizing is unarmed. Yes, like the rest of the entire SGV gang, Pedo is a coward of the lowest order, and understandably, just look at him.
The entire SGV gang carries a wide array of weapons, because they're so "manly" when they bait folks and then palm weapons, appearing eager to deploy them..
What they don't realize is that the odds of running into someone who won't hesitate to blow their balls off, when they pull that baiting, then brandishing and reaching for a gun, or something that looks like a gun game, increases with every roll of the dice.
Could be anybody. An old man, a kid, even a woman; all of their favorite victims. You don't need to be able to bench 585, squat 800, or rip entire decks of cards into quarters to pull a trigger. Almost anybody can be trained to point, squeeze, and to do it quickly and effectively the instant they sense that an antagonist is reaching for a gun and they're about to be drawn down on, like Franklin Ornelas is threatening to do here to an UNARMED man he's been deliberately antagonizing. Then the SGV gang all brag about how "tough" they are. ROFL. What a disgrace!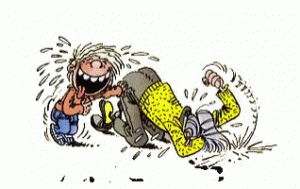 .